0039467
Bellman Cart Satin Aluminum w/ Black Carpet & Grey Bumper/Wheels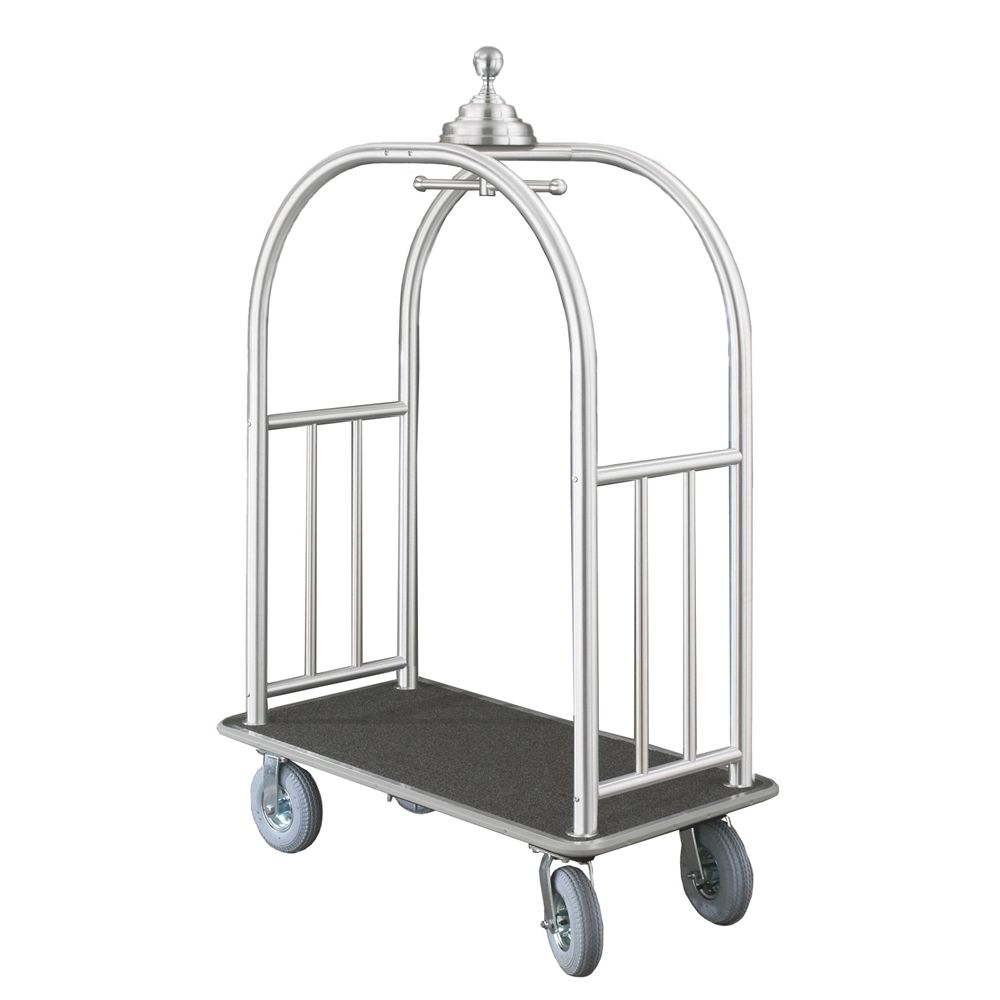 This Glaro Glider Signature Collection Bellman Cart is the ultimate cart of its kind. These Glaro Glider four wheel carts, have a balanced, high quality, ball bearing, caster system which provides excellent maneuverability, and ensures the transport of heavy loads with ease, even over uneven surfaces. This level of performance engineering makes this cart an excellent choice for self- service locations as well as where professional bellmen are available. Built for indoor and outdoor use, casinos, resorts, hotels and hospitality facilities recognize and value this bellman cart for its all-weather design. A distinct feature of this model is the satin polished, aluminum finish with a baked on, protective, clear coating. This finish never needs polishing and always looks new. Features & Benefits: Casters, two swivel and two rigid, non-marking, pneumatic, 8in diameter, ball bearing casters absorb shock and move quietly over hard or carpeted surfaces; choice of black or grey. Deck covering, 100% Olefin carpet, easy to clean, resists stains, suited for use outdoors, choice of 7 colors: burgundy, black, gray, brown, blue, green, or beige. Deck construction, thick, all-weather, 40in long plywood deck mounted to a heavy duty, rust-proof, powder coated steel chassis. Frame - heavy gauge 2in diameter aluminum tubing with elegant crown and ball top design, is satin polished with a clear, scratch-resistant, high temperature baked, powder coat finish, includes decorative grill design to better contain cargo. Bumper, full wrap-around extruded aluminum trim in matching finish, firmly holds the tough, non-marking, solid rubber bumper which protects walls, elevators, and door frames, choice of black or gray. Load Capacity, efficiently transports 1500 pounds or more of luggage, supplies, or equipment. 30% recycled aluminum and steel construction. Made in the USA
Satin polished, aluminum finish with a baked on, protective, clear coating. This finish never needs polishing and always looks new. 
Casters, two swivel and two rigid, non-marking, pneumatic, 8in diameter, ball bearing casters absorb shock and move quietly over hard or carpeted surfaces.
Deck covering, 100% Olefin carpet, easy to clean, resists stains, suited for use outdoors. 
Deck construction, thick, all-weather, 40in long plywood deck mounted to a heavy duty, rust-proof, powder coated steel chassis. 
Frame - heavy gauge 2in diameter aluminum tubing with elegant crown and ball top design, is satin polished with a clear, scratch-resistant, high temperature baked, powder coat finish, includes decorative grill design to better contain cargo. 
Bumper, full wrap-around extruded aluminum trim in matching finish, firmly holds the tough, non-marking, solid rubber bumper which protects walls, elevators, and door frames.
Load Capacity, efficiently transports 1500 pounds or more of luggage, supplies, or equipment. 
30% recycled aluminum and steel construction. 
Made in the USA